Starboy has been talking about dollhouses and has had an interest in them—even adding some to his wish book. He's really into mice lately; they drive the cars and trucks, and they also offer gifts and nice things while he sleeps, somehow. ("The mice must have left that for me!")
I think this is a combination of reading about Mistress Mouse from the
Richard Scarry books
, as well as the team of lovely mice that are featured regularly in the
Junkyard Tales
he loves listening to.
Well, Starboy asked me to make a mouse house for him out of felt. Apparently the
gorgeous wooden castle
his grandparents gave him for Christmas is a bit too roomy for the mice. Poor mice, and their first world problems. Tsk, tsk, tsk.
So I did some research and found some beautiful, beautiful natural dollhouse choices online. Pinterest and Etsy are such time sucks: Warning! Warning! My collection of tiny house inspiration is
here
.
I would love to make him a sturdy house like
this
, but I don't really have the time to haul out the power tools, and anyway I. HATE. SANDING., so we added it to his wishlist for Grandpop. The levels can separate into individual units. It's also familiar:
Miss Molly
uses a house like this in some of her storytelling. Seems so easy to make, if you're handy with a jigsaw, and have access.
This one by Melissa and Doug I've been looking at for a long time. It's only about $40 for the set and super cute—Mary Jane has one. It's a bit bulky to store but low profile as far as most childrens' toys go. But, it would make a great garage (or barn) when opened. And it's very portable. I love this dollhouse. If I had remembered this during the initial stages of the search, I probably would have just bought him this one, rather than spending half a day making the felt one we ended up with. But I'm not upset with the way things turned out.
I really wanted something woodsy for him, to keep his imagination expanding. Like the drawings of
Elsa Beskow
,
Beatrix Potter
and
Thornton Burgess
. And portable, so he could move it around, or take it with him somewhere.
This one
is
so charming
, but spendy. And I'm not sure how long he'll retain the sweetness to appreciate it, what with school coming up and all of those new television-fed friends to give him ideas. I'm looking for shapes that would be versatile: Could also be a garage, a barn, and so on.
Here's another
great house from Etsy
: when the child outgrows it, it can hold books. Genius. You could make a whole city and organize your kid for middle school at the same time. Which offers another reminder: Any ole bookshelf could be a dollhouse, too. You don't have to build things from scratch to be crafty.
This pattern
via Pinterest is cute for felt, but not as interactive as I was looking for. It's more of a lidded box than a playhouse.
And I considered the design of our previous
gnome homes
, made from tissue boxes. Which were a huge (and quick and cheap) success. Shoeboxes....gift boxes....etc. Wasn't part of my mojo that day.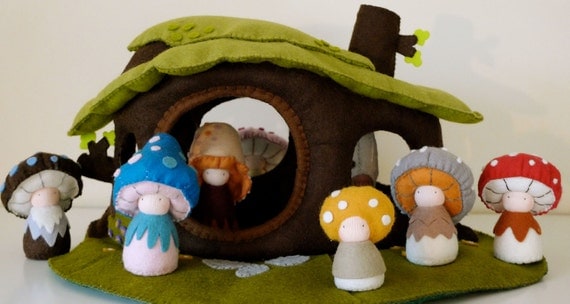 But this was the one that really caught my eye for inspiration: Simple, open-ended, natural, and possibly easy to create. I can't afford the $199 price tag that Etsy seller Shroompers charges, but after investing four or five hours in the one I made, I can understand the hefty price—especially with lovely wool felt and stuffing.
What I ended up with is a riff on the previous gnome house and Shroomper's woodland hut. With a few marked improvements. In my humble opinion.
I loved the round windows and doors that we used on our first
gnome houses
, and the greenery on the roof and base of Shroomper's house. Both offer a more natural, woodland feel; a break from city life. I stuffed my two layers of felt, like Shroompers did, but I used only cotton quilt batting, not wool fluff. So the effect was very plain and flat. To offset that, I did some free-quilting to create "leaves" and "grass" on the roof and base/ground.
The ground is one pieces, and the roof is three separate pieces tacked together into one piece.
The felt walls were made by sandwiching some plastic canvas between two pieces of felt. I made my own sketch as a pattern, keeping in mind the size of the creatures who would live there (gnomes, mice, Schleich and Safari Ltd. animals). The two walls were stitched together on the two ends, so when you push them together like a coin purse, the house opens up with living space. But it folds flat for storage.
This also is why I ended up not sewing the roof onto the house. Not only does it make it easier for play, but it's also much easier to store when it can be separated. This is a big deal in Los Angeles, especially in an old house like ours with only two closets.
I tried to embellish the house and the roof like Shroompers did, to give it dimension: varying greens to give depth in the leaves, patterning and shrubs on the walls...but it all looked super hokey so the pieces are in my scrap bin. I plan to hand embroider some of the openings to offer definition, but there hasn't been time so far.
I forgot to leave room on the roof for the chimney, and then Starboy flipped out that there was no fireplace. So the mice have a chiminea that will work indoors or out. True California living. The flames are all stitched together in one blob.
Basically it's four semi-tear-dropped shape felt pieces sewn into a tube, then a square piece added to the bottom to make it a "vase."
The stools are wooden drawer knobs painted to look like mushrooms. There's a mushroom table that's actually a little treasure box.
This mouse is "
Dao's mouse
;" you can find the pattern
here
. We have two of them, and they go missing all the time. Pesky mice.
I have a collection of peg people on Pinterest that has a lot of ideas
here
and other felt toys and mice
here
.
So, the castle now officially has some peasant farmland outside the gates...or maybe it's the Royals' retreat. That probably will depend on the story of the day.